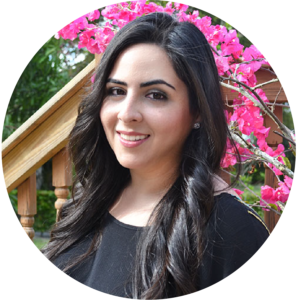 I am an acupuncturist, herbalist, pet lover, traveler, biologist and self-proclaimed gardener.
I have been blessed with amazing organization skills and multitasking abilities, but what I am most known for is helping women find physical and mental balance in order to remain happy and healthy. I love working with professional women going through transitions. From menstrual irregularities and pain, to fertility and menopause, nothing gives me more satisfaction than helping women overcome their health issues to lead healthy and fulfilling lives.
I received my first bachelors degree in Biology from Oral Roberts University in Tulsa, Oklahoma. As I construct treatment plans, I like to blend Eastern and Western medicine in order to provide the most comprehensive and complete care to my patients. After graduation, I followed my roots back to Miami, Florida in order to pursue my masters of Oriental Medicine at the Acupuncture and Massage College. Specializing in women's health, I am passionate for the treatment of male and female infertility, Policystic Ovarian Syndrome, endometriosis, menstrual irregularities, stress and anxiety, menopause and pain management.
By combining acupuncture, Chinese dietary therapy, cupping and herbal medicine, I can help restore the body's natural balance and hormonal function. In doing so, my patients learn to optimize their lifestyle choices, thus increasing their physical and emotional well-being, as well as reducing stress. In my practice, science and nature converge in the practice of acupuncture.
I am a strong believer that we are the directors of our health. We can't sit around and wait for our bodies to miraculously run without a hitch when we refuse to exercise, eat junk and live in a stressful environment. But you are not alone. I am here to coach you through the most important decision and transformation you will ever take on. Getting back to your body's natural balance, getting back to YOU.
When we begin your treatment plan, you will get over a decade of my research and clinical expertise in women's health and fertility, Traditional Chinese Medicine, various nutritional plans, lifestyle coaching and tips, as well as mindfulness and anxiety reducing techniques.
I will guide you through this journey – as a motivator, but also as a source of tough love when needed.
No matter what brings you to my office, working with me will lead to a healthier, calmer, happier, more productive you. Chronic pain, anxiety, insomnia, gastritis, infertility and hormone swings will no longer have a hold on your body. You will have the energy and vitality you desire to lead an active and fulfilling life with your family. It's time for you to reach the peak of your body, mind and soul.

I have been sick, with nothing more than a bottle of pills to fix all the things that were "wrong" with me.
Funny thing is, after all the meds, I still felted exhausted, I couldn't lose weight, my periods felt like a near death experience and I looked like a hot mess.
On paper, my lab work was "within normal range", but I knew that this wasn't the best I could be. I didn't want to mask the symptoms; I wanted to be healed. I wanted to be free.
Four years later, after hundreds of classroom and clinical hours, endless yoga classes, diet and lifestyle changes, I am finally on the right direction towards optimal health. I encourage you to fight for your physical and mental health. I listened to my gut, I did my research and I am now happier and healthier than I have ever been in my life.
Thank you for taking the time to learn about my passion and how you can use it to heal your body and mind.
I'd love to get to know you a little better!
Click here to send me an email and tell me about yourself and what you'd like my help with.